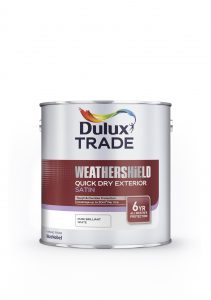 A trim product that has the flexibility and durability of the Weathershield system. Contains fungicide to prevent mould growth.
---
Application Information:
•Coverage – Up to 20m² per litre on most surfaces
•Touch Dry – 1-2 hours dependent upon temperature / humidity
•Recoatable – 2-4 hours
•Thinning – This product should not be thinned
•Application – Brush

---
Key Benefits
•Provides a fashionable satin finish.
•Quick-drying and easy to apply
•Up to 6 years lasting protection.
•Contains fungicide to help protect against the disfiguring effect of mould growth on its film.
•Available in over 620 colours