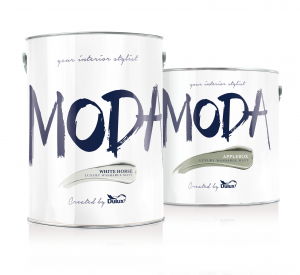 MODA is a luxury washable matt emulsion that is formulated with premium quality pigments to guarantee excellent depth of colour and with specially-blended clays for effortless application and an irresistible soft-to-touch finish.
The story and mood of  MODA has evolved and is being reenergised by the creation of 5 new palettes underpinned by seven new colours to create these newly revised capsule collections which also heroes cultural colours that continue to resonate with consumers. From Atlantic Dune, Pure Chemistry, Wild Elements to Romance Blossoms to Midnight Dream discover depth of colour within these collections made in Cork, Ireland.
The capsules in themselves create a colour palette which will work outside of paint and can help your client to use this as a colour scheme for their entire room or rooms by using colours for accessories, furnishings and beyond.
Key Benefits:
• MODA is made in County Cork where we have been adding colour to Irish lives since 1885
• It is available in 2.5 litres & 5 litres and in 25 colours.
• It is a luxury washable matt  to stand the wear and tear of everyday life
• Amazing Quality. Formulated with premium quality pigments and specially blended clays
• The application is what's attractive and the finish is what lasts.
What do professional decorators in Ireland think of MODA?
"I am looking forward to using the MODA range as a complete package going forward. It's a deal sealer to have colours that link and match, also from a painters perspective to have a paint that is easily applied is a game-changer, especially when striving for quality finishing. I am totally sold on the MODA concept" –  AJ Painting Contractors.
"I have recently used MODA paint and I find it's a very good product, very good coverage and a very good quality finish with either brush or roller. All my clients were very pleased with the high-quality finish. It's a very good product for the painting trade." – Martin Lynch, Professional Decorator
"Love the feel of the paint, you can see the quality on the wall" – Ian Doyle, Professional Decorator
"Much quicker to work with, cutting in was a dream" – Michael O Brien, Professional Decorator