---
Luxury has a new look
Restyle your clients interiors effortlessly with new colour collections from MODA. These exquisite palettes are available in stores now.
Have you used Moda?  Do you know how effortless the application is?
It delivers a silky-smooth finish and offers durability for your client. This considered collection allows you to share a crafted palette of colours with your client and with real paint being used in the MODA 2020 Colour Card – the decisions are made easier.  MODA answers colour conundrums that clients have- what colours work seamlessly to bring a room together. These colours have been created by experts helping to give confidence that the colours just work!
In September 2020, we changed the colour palettes, so the collection is filled with fresh choices to share with your clients to help them on their transformation journeys.
There is always a need for whites and more of them, so we have listened and have added what we are calling 'White Horse' an off white, which is not too warm which helps to balance the other colours in the palette.
Truest Grey continues to answer the demand in the realm of greys, it has no undertones so will deliver the purity that consumers want.
We have added some braver colours such as Collins Green and Retro Rust. These are confident colours and what consumers are looking for to add some distinctiveness to their spaces.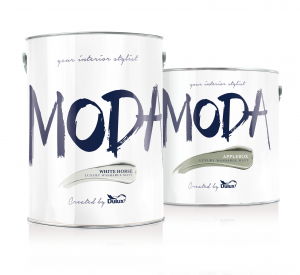 MODA COLOUR COLLECTIONS:
MODA is a range of 25 colours broken down in to 5 interior colour groups. These palettes are colour specifications in themselves and have been created to help consumers select colours that an Interior Stylist may have proposed.
It is a luxury washable matt emulsion and is formulated with premium quality pigments to guarantee excellent depth of colour and with specially-blended clays for effortless application and an irresistible soft-to-touch finish.
You're also supporting local! MODA is made in County Cork where we have been adding colour to Irish lives since 1885.
---
Available in your Homestore in 2.5 litres & 5 litres!
---