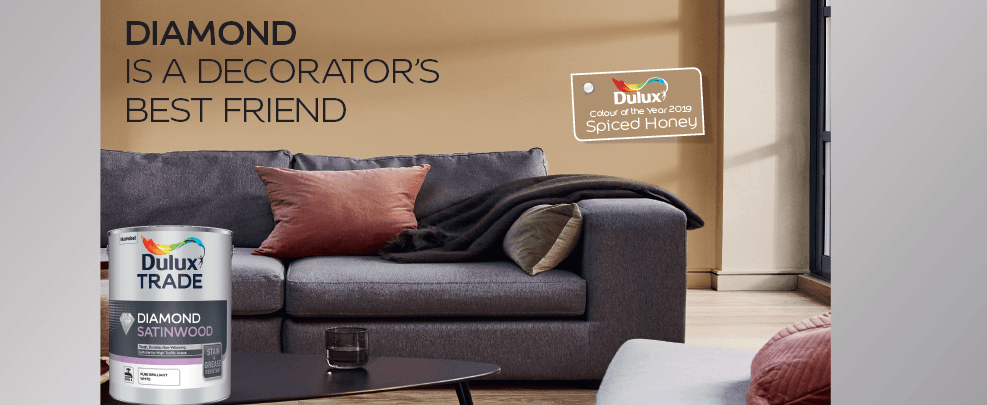 Dulux products are specially engineered to give a technically superior performance, allowing professionals to use their skill to get fantastic end results.
The Dulux Trade product range provides a comprehensive range of everyday and specialist paint finishes that professionals can always rely on. The Diamond Range from Dulux Trade will help professionals make their great work last even longer. This year Dulux Trade launched Diamond Satinwood a unique water-based product with exciting new technology from the experts at Dulux.
---
The secret to Dulux Trade Diamond Satinwood is our exclusive Cross Linking Technology, involving a unique form of latex that binds and cross links the paint as it dries, for extra toughness and durability.
---
Key Benefits:
♦ A stunning DIAMOND-tough satin finish.
♦ Resists everyday scruffs and knocks.
♦ Suitable for wood and metal surfaces.
♦ Resistant to human grease which breaks down the surface of paints.
♦ 100% waterbased technology.
---
The new Dulux Trade Diamond Satinwood. A water-based product with a new technology which means you get an excellent flow, great adhesion and a smooth finish.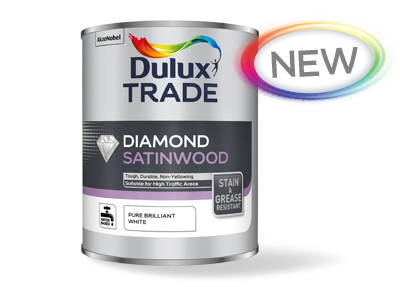 New Diamond Satinwood is designed to be used in high traffic areas, such as corridors, stairways and access areas, while having the added benefit of being quick drying with low odour. With a professional aesthetics finish and non-yellowing water-based technology, it has never been so easy to switch to water based paints.