---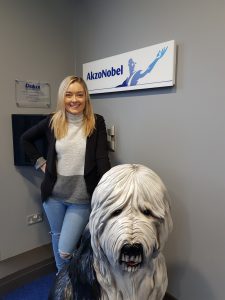 It's been another amazing year for Dulux Trade Points, and I want to take this opportunity to thank you, our Members, for choosing Dulux for your projects, and to welcome you into the New Year with us.
Since its launch in 2017, the Dulux Trade Points Programme has grown from strength to strength, and none of this would be possible without your valued support and feedback.
2019 has been an incredibly busy year as we set out to bring even more value to our Members.
We launched the hugely popular monthly Stroke of Luck Competitions which now gives our Members more chances to win more prizes.
We released the new GET THE EDGE email which is filled with product news, competitions and rewards, and we welcomed Murtaghs of Drogheda and Bandon Co-Op as new participating stores for Dulux Trade Points.
---
"I signed up to Dulux Trade Points back in October 2018 after a co-worker told me about it. I think the Rewards are great, it's easy to earn points instore, and no other brand gives you something back for simply buying their products." John O'Neill Decorator, and Dulux Trade Points Member
---
As we wrap up the year, we have 32 participating stores offering the Dulux Trade Points Programme nationwide and have over 2,650 professional Decorators enjoying its benefits.
We believe in making the programme as rewarding as possible for our Members. Check your point balance and please make sure you get all the benefits Dulux Trade Points offers you. The rewards list is filled with gift cards, tech products and flight vouchers. There's something for everyone.
We also want to make it quick and easy for you to get your hands on the rewards you want. If you haven't already seen it, the Trade Points App allows you to check your point balance and claim rewards on the go. It's a fantastic App to have on your phone. Find out more here
On behalf of the team in Dulux Trade, thank you for your business. We look forward to working with you in 2020, providing you with the best in paint products and extra value through Dulux Trade Points.