In a recent survey we carried out with Trade Points members, you told us that you would like more colour and product advice from us. We want to support you and your business and we are going to try to answer this by kicking off with what we call Dulux Academy Live sessions. Our Academy team will, through a virtual class, bring you into our world of colour and share some product insights with you.
Given that we are in the exterior season, we are going to start the first session by exploring Exterior Colour Schemes, with the aim to help you understand and deliver scheme expertise to your clients. We will share our top tips and a proven algorithm that shows how to guarantee colour combinations that work in grey Irish light for particular house types, time and again.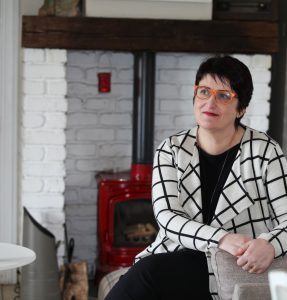 Cora Collins will be your host for the Exploring Exterior Colour Schemes Session –
Cora has been part of the Dulux team for over 20 years. She is currently an Academy Lead with a specialty in Colour and has worked in this industry as a specifier for her entire career. Cora has a particular talent when it comes to exteriors given the constant challenge of Irish light. She has been directly involved in the creation of the colours in our Colour Card using her insights from the market and is constantly watching the market for trends, innovations, and inspiration. Cora will host the exterior session for you and can be found online on Instagram @coracollinscolour
We are inviting you to attend a 1hr FREE colour session focused on exteriors to help build on your colour specification expertise for your client base. Places are strictly limited, so make sure to register your place today.
To join a workshop, you will need to enrol in advance (see below the registration form), have internet access, and an open mind to explore learning with the Dulux Academy online.