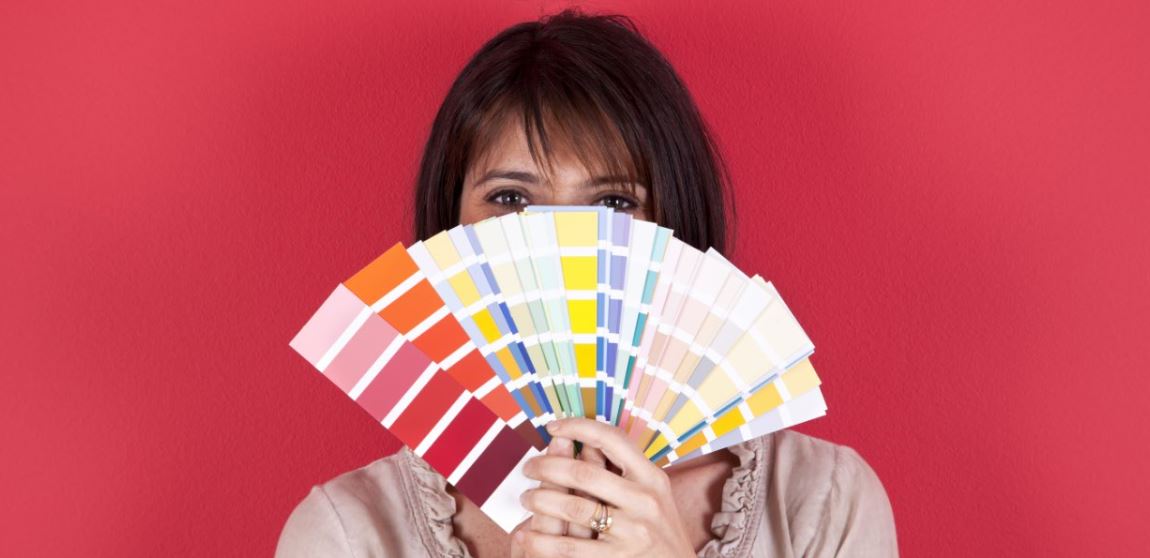 ---
1. Incorporating contrasting colours where old meets new


If you're looking to create a grey feature wall but have been asked to add that something a little extra special,then a bright colour paired against a slate grey will help inject some welcome colour onto a grey feature wall. Or, pair a mid-tone shade such as Deep Fossil OONN 31/000 with mustard yellow and a neutral colour like Egyptian Cotton 40YY 65/061 on adjoining walls, and you've got yourself a super-trendy scheme just like that. Easy!
Expert Tip: If your customer has wooden furniture and an already existing bright colour scheme in their room, you could also add a bold shade of Dulux Trade Quick Dry Satinwood on trims and wooden chairs.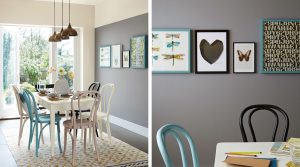 ---
2. Simply Scandi
The Scandinavians know a thing or two about calm, muted tones. So take a leaf out of their super-stylish interiors book and keep things simple and sleek. A lighter grey shade like Goose Down 30GG 61/010 can look chic next to a deep Royal Blue 50BB_08257. Make these colours your focal point and let the walls do the talking.
Expert Tip: Minimalism really is key here, so don't go overboard with extra colour. Just use subtle hints to a secondary to extenuate the grey colour scheme.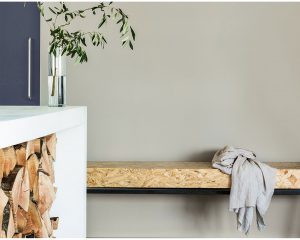 ---
3. Check this out
Using different shades of the same colour can create a relaxed feature wall – the perfect addition to add something a little different to a customer's stylish bedroom. Layering Dulux Trade neutral colours will create a calming effect too, so they'll wake up stylishly refreshed every morning. Try lighter shades such as Rock Salt 50BG 83/009 and Polished Pebble 00NN 72/000 with darker shades such as Chic Shadow 00NN 31/000 and Natural Slate 30BB 31/022
Expert Tip: To upsell your job – This trick also looks great in their living room and will frame a beautiful fireplace nicely.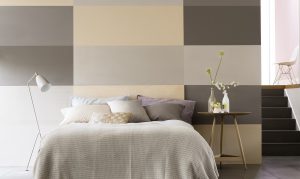 ---
4. Coastal themes
Greys don't just work well on jobs when a modern brief is specified. Grey paint can also be used on jobs that require a rural, coastal, or summer feel where a softer approach is specified. Pearl Grey 50BG 72/006 is a soft shade from Dulux Trade that lends a relaxed and sunny feel to a room. Pair with a pale pastel colour like Jade White to leave a relaxed feeling that they'll be happy to kick back and relax in for years to come.
Expert Tip: Such delicate colours on the walls look lovely next to a light wooden floor. If the luxury of a wooden floor to paint is available, suggest painting their woodwork white to match with Dulux Trade Diamond Eggshell.
---
Try out all these shades and lots more on your walls at the touch of a screen with our free Dulux Trade Paint Expert app or download our Professional Colour Guide here today!
---